How would you like to Release the anxiety by just sitting back and relaxing?
Hello, I'm Michael Molloy, Clinical Hypnotherapist. With all the uncertainty in the world at the moment over the virus I've put together a special hypnosis audio recording with that aim in mind. How would you feel if you could let go of the fear and anxiety? Imagine all the benefits…
But before we go any further, I am going to list the most common fears and worries people have spoken to me personally about. If these do not apply to you, then this program is probably not for you, but if you do feel this way, read on.
Fear of losing job
Fear of not being able to pay mortgage
Worrying about the future of your family
Worrying about coping with stress and anxiety
Fear of no money to pay bills or buy food long term
Fear of economy not getting back to normal
Fear of not recovering
Fear of passing it on to elderly or sick
Fear of tensions and fighting at home
Fear of losing friends and family
Feeling isolated
Losing self confidence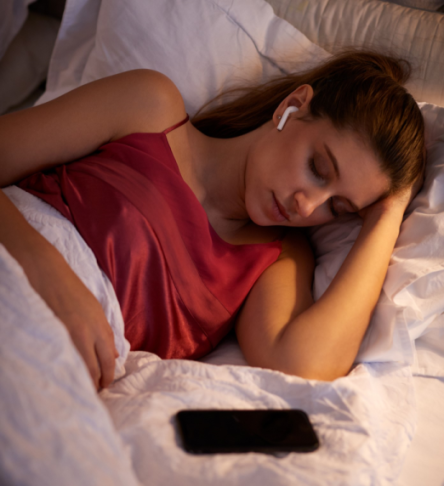 If any of the above are making you feel anxious then this hypnotic recording may be for you.
I run my own clinical hypnotherapy practice in Ireland so working to reduce and remove anxiety is nothing new to me. I have worked with many people who suffer from many types of anxiety and depression. Unfortunately, all we have to do is look around and see the effects of the virus.
It has taken many lives and we grieve for them and their families. It has also affected the economies of over 190 countries. This has a knock-on effect which has affected people in ways we had not thought about previously. Our generation simply has not seen the likes of this before.
​
That's why I created this recording!
A special hypnosis recording designed to help you relax and to work on removing your anxiety.
This is a digital download, which means you can start today! After purchase all you will need to do is download the MP3 audio file and when you're going to bed play the recording and relax, that's it! Click the buy button and start using it today for only €37 Secure Payment Through PAYPAL
We all know what fear feels like, different stimuli affect different people. The real problem is when the fear stays with us for a prolonged time. It starts to affect how we see the world, down to the simple day to day chores.
It saps your strength, makes you irritable and simply getting through your day becomes more difficult. What is unprecedented for our generation is that it is affecting so many people in so many different ways.
This can lead to one person feeling isolated due to the restrictions while another person is feeling trapped in a very stressful environment with family and friends. In this program we use powerful suggestions to help you reduce your anxiety and to help you see things in a different light.
What is hypnosis
First of all, it's nothing to be afraid of, you will naturally go in and out of this or a similar state many times during each day. So, it has nothing to do with intelligence or having a weak or strong mind.
Let's have an experiment, say this to yourself and try to imagine it, and listen for the voice that might say something back, I am beautiful, I am loved, I am so confident, I am so slim, I deserve to be happy, I can be whatever I choose to be. For most of us we will find one or more of them is hard to believe. You might hear in your mind, no I am not or a tightness or uncomfortable feeling in your stomach.
This is the conscious part of your mind and for many of us we experience this self-doubt or inner critic constantly. When this becomes a background track or a negative program/way of thinking we can run into problems and every day seems to be a struggle. Secure Payment Through PAYPAL

​
During hypnosis we distract the conscious mind/give it another job to do while we speak to the subconscious. This is where the change needs to take place. Only suggestions that you like and want will be accepted so you have nothing to worry about. You are in control and are more aware during hypnosis.
Another fear of the virus for many people is the insecurity for their future and that of their children. We know the economies have taken a hit and we know the bail outs will be in the billions. Many people make problems bigger than they are and then we project them into the future. When we do this, we can create nightmare scenarios that we cannot see a way out of. The vast majority of these scenarios are fiction, but the negative emotional state is real to the individual.
​
In this program we use hypnotic techniques to reduce the fear by helping you see things differently, by anchoring new positive beliefs in your subconscious while you are listening and drifting off to sleep.
Relax and release the fear and anxiety as you drift off to sleep. Buy Now for only €37 Secure Payment Through PAYPAL
Along with the powerful hypnotic suggestions we also incorporate a isochronic binaural background track.
Isochronic tones are regular beats of a single tone that are used alongside binaural beats in the process called brainwave entrainment. A binaural beat is an auditory illusion perceived when two different pure-tone sine waves with frequencies lower than 1500 Hz and with less than a 40 Hz difference between them when dichotic listening.
This is to create a fuller and richer experience so you can the most out of the recording and enjoy those deeper levels of relaxation that you deserve. Secure Payment Through PAYPAL
Please not that your Purchase Will Be completed with PayPal.
Plus you are covered by a no questions asked 30 day Guarantee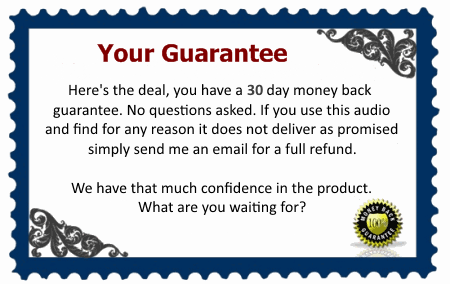 THE INFORMATION CONTAINED IN THIS WEBSITE IS FOR INFORMATIONAL PURPOSES ONLY. YOU SHOULD ALWAYS SEEK THE ADVICE OF YOUR PHYSICIAN OR OTHER MEDICAL PROFESSIONAL WITH ANY QUESTIONS YOU MAY HAVE REGARDING A MEDICAL CONDITION.
​
THIS AUDIO RECORDING DOES NOT DIAGNOSE OR CURE ANY VIRUS OR DISEASE. THE INFORMATION YOU FIND ON THIS WEBSITE AND THE AUDIO PROGRAM SHOULD NOT BE USED BY YOU AS MEDICAL ADVICE OR AS A SUBSTITUTE FOR PROFESSIONAL MEDICAL ADVICE, DIAGNOSIS, OR TREATMENT.